Dead Man's Switch: Park Car No. 2
Regular price
$171.00 USD
Regular price
Sale price
$171.00 USD
Unit price
per

2005
Photograph printed on Fuji Pearl Metallic archival
'Deadman's Switch' is a photographic series of empty VIA rail passenger cars, which uses Canada's declining railway system as a metaphor to explore themes of direction, destination, transience, and infrastructure.
The railway is credited with playing a major role in the development of Canada as a nation, but its history is deeply rooted in systems of colonialism and oppression. The Intercolonial Railway was Canada's first national infrastructure project, and was built largely upon the backs of exploited immigrant labourers — many of whom died as a result of unsafe working conditions. What is known today as CBC radio was actually born out of CNR Radio, which was headed by the Department of Colonization and Development, with the aim of assisting the colonization of Canada by providing radio service to remote settlers who lived near the railway lines. Passengers in the days of CNR radio were supplied with entertainment en route via the on-board radio listening stations, which played programming that was consistent across the country. 
I grew up as the daughter of a CN rail worker, and so, trains and heavy machinery played a major role in the cultural landscape of my youth. Stories told at the dinner table complimented various railway artefacts, such as railway ties, rails, and machine cabs strewn across the property as make-shift building materials. The railway was once a major economic force in the province of New Brunswick, until the CN shops shut down in the 1990s. Currently, the rail system is in decline, with an increasing number of lines being decommissioned and torn up. Where the trains once ran several times a day, they now run only once or twice a week. As problematic as the colonial history of the railway is, the current decline of the railway system is also problematic since it is now removing services to remote areas, cutting many people off from larger urban centres. With the assumption that everyone has access to cars and highways, the rail lines and bus routes are being abandoned as they are no longer seen as profitable. 
These photographs were taken in 2005, during a train trip from Vancouver to Halifax and back again, when I was working on a film that was funded by SSHRC (Social Sciences and Humanities Research Council of Canada). The film was called "Fallen Flags," and featured images of empty passenger cars and a soundtrack filled with the voices and laughter of passengers. A 'fallen flag' is a rail line that has been discontinued and is no longer in service. Since then, I have made other films about the train, including "Mechanical Memory" and "Mechanical/Animal Memory," both of which focused on freight trains, tie gangs, my father, and my childhood. 
"Deadman's Switch" is a colder and more disembodied look at the passenger rail service. A 'Deadman's Switch' is the term for a failsafe device on a train, which if the engineer does not hit the switch on a predetermined regular interval, the train will automatically stop (assuming that the engineer has died because he has not flipped the switch). The emptiness of the cars in this photo series asks the questions: "If there are no more passengers, why does the engineer keep the train moving? We know that the cars are not parked, because the landscape outside the windows is blurred with motion, but how much longer before the switch is no longer flipped?" There is also an implication of human presence via their absence, which creates an uncomfortable eerie feeling; knowing that these are spaces created for people, so to see them empty begs the questions: "Where are the people? Why aren't they here?" 
By focusing on the empty passenger cars, this series anthropomorphises the train itself. As it is, in effect, a portrait of machinery and transportation infrastructure rather than a portrait of a person, the cars become the main characters. By granting agency to the inanimate, we can take a few steps away from anthropocentrism and look at the energy in the thing itself: the potential and kinetic energy of the machine; the scuffs and wear marks on the furnishings; the complicated memories embedded in the metal.
Most photographs were taken in the very early morning while the other passengers were still sleeping. Images were created using long exposures on Fuji Velvia 4×5 transparency film with a Toyo large format field camera. 
Shipping + Returns
Share
Contact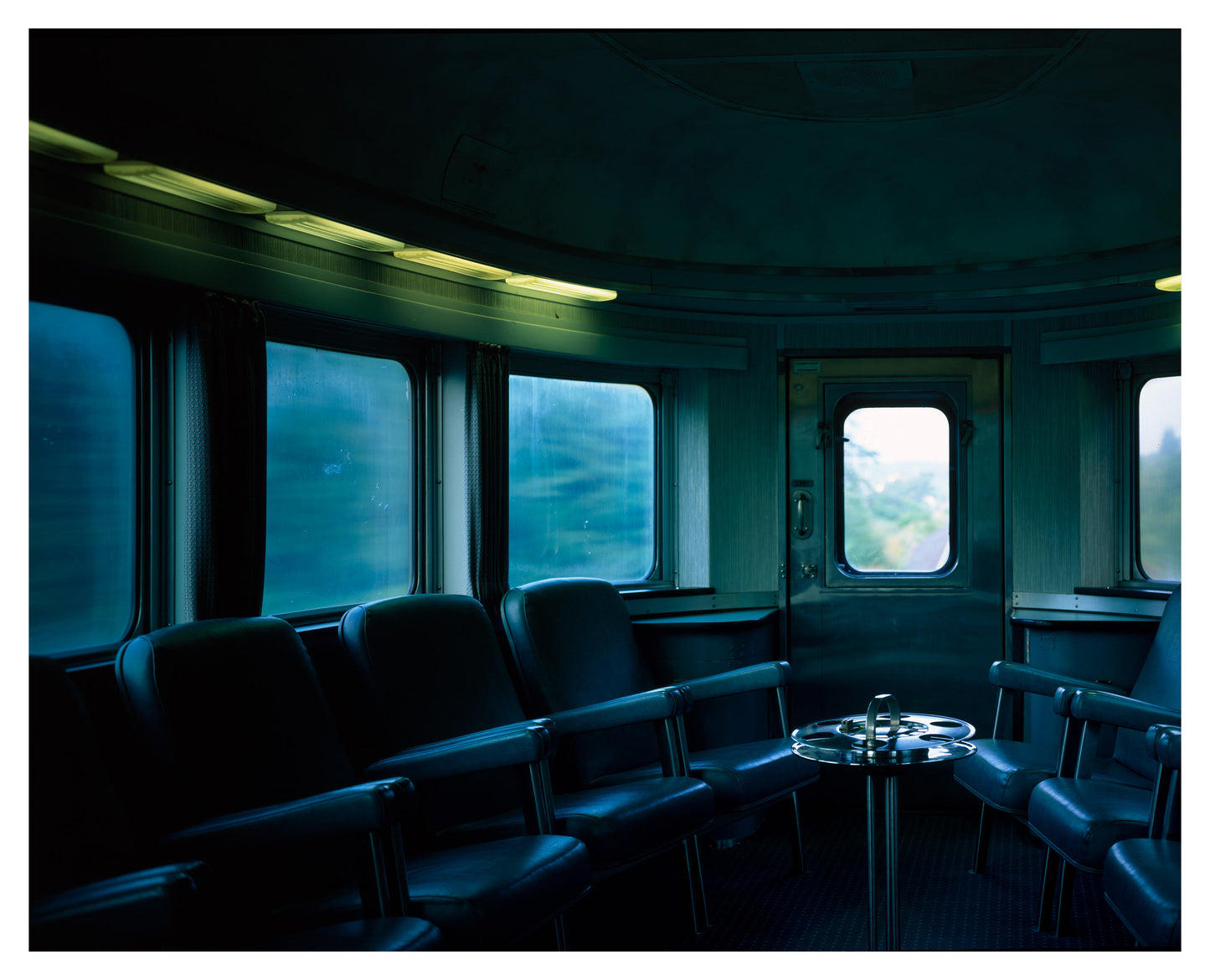 Shipping & Returns
Shipping
IOTA Studios offers free shipping on all orders within Canada, with the exception of framed artworks and sculptures. 
International shipping rates are calculated upon checkout. 
Packages are shipped by Canada Post.
Depending on size, prints are wrapped in with a stiffener, sealed in a plastic and shipped flat or carefully rolled in a sturdy box.
In the description of each artwork, it is specified whether it is digitally signed or hand signed. 
The final date for holiday orders is December 1st, in order to allow ample time for processing and shipping. Orders placed after December 1st will not arrive before the holidays.  
Please reach out to iotastudiogallery@gmail.com for any specific shipping and handling questions. Orders ship within 10 business days. 
Returns
If you have any issues with your artwork acquisition please email us at iotastudiogallery@gmail.com. We do not accept returns or exchanges. If your works arrive damaged, please notify us with images of the artwork within 14 days of delivery. Damaged digital prints will be replaced at the cost of IOTA, and in the case that a unique and irreplaceable artwork is damaged, IOTA will lead a claim process with shippers and the client will be offered a store credit or refund for the value of the artwork. 
Public Display
Artwork purchased through IOTA Studio Gallery is not for public display. Canadian Artists' Representation/Le Front des artistes canadiens (CARFAC) sets presentation standards for Canadian artists, which require that artists be paid equitably for their work, including exhibitions. If the artwork is to be displayed publicly, or in an exhibition, IOTA Studios or the artist must be contacted directly to discuss presentation fees for the artist.
Contact for shipping information
TK